Indometacin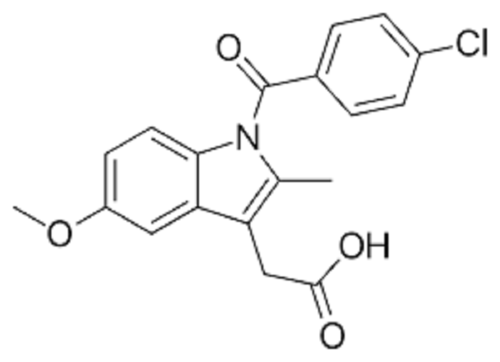 Indometacin
Price And Quantity
Product Specifications
Medicine Raw Materials

" Indometacin Ip/bp"
Product Description
Chemical Formula: C19H16ClNO4
For moderate to severe rheumatoid arthritis including acute flares of chronic disease, ankylosing spondylitis, osteoarthritis, acute painful shoulder (bursitis and/or tendinitis) and acute gouty arthritis.Indomethacin, a NSAIA, with analgesic and antipyretic properties exerts its pharmacological effects by inhibiting the synthesis of prostaglandins involved in pain, fever, and inflammation. Indomethacin inhibits the catalytic activity of the COX enzymes, the enzymes responsible for catalyzing the rate-limiting step in prostaglandin synthesis via the arachidonic acid pathway. Indomethacin is known to inhibit two well-characterized isoforms of COX, COX-1 and COX-2, with greater selectivity for COX-1. COX-1 is a constitutively expressed enzyme that is involved in gastric mucosal protection, platelet and kidney function. It catalyzes the conversion of arachidonic acid to prostaglandin (PG) G2 and PGG2 to PGH2. COX-1 is involved in the synthesis pathways of PGE2, PGD2, PDF2a, PGI2 (also known as prostacyclin) and thromboxane A2 (TXA2). COX-2 is constitutively expressed and highly inducible by inflammatory stimuli. It is found in the central nervous system, kidneys, uterus and other organs. It also catalyzes the conversion of arachidonic acid to PGG2 and PGG2 to PGH2. In the COX-2-mediated pathway, PGH2 is subsequently converted to PGE2 and PGI2 (also known as prostacyclin). PGE2 is involved in mediating inflammation, pain and fever. Decreasing levels of PGE2 leads to decreased inflammation.


Trade Information
Contact us for information regarding our sample policy

All India
Contact Us
Shop No 215, 2nd Floor, Aaimata Road, Raj Mandir Complex, Parvat Patiya, Surat, Gujarat, 395010, India
Phone :+918045479081